A View from Dartmouth
AAVD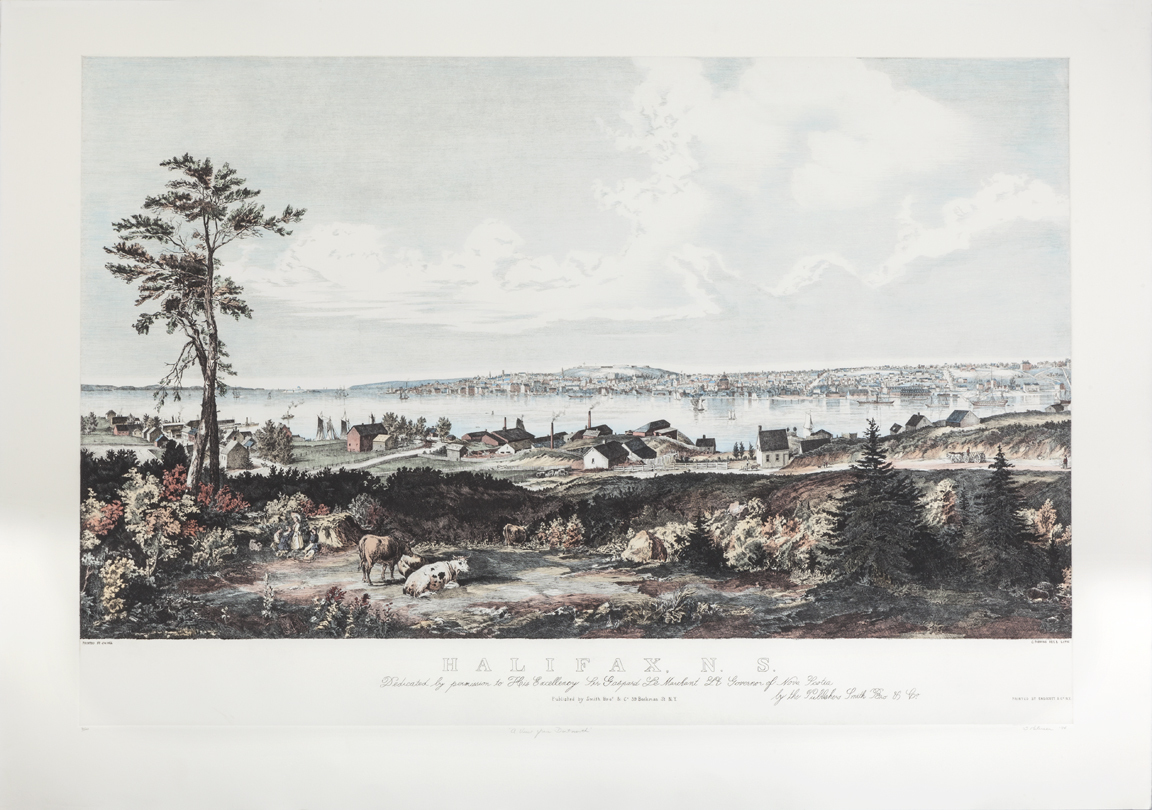 A View from Dartmouth is a colourized etching by Susan Paterson based on the watercolour Halifax from Dartmouth (1855) by John William Hill (1812-1879). A View from Dartmouth depicts a view of the Halifax waterfront overlooking the Dartmouth commons and waterfront.
Susan Paterson recreated Hill's painting through a copper etching process. Using only a singular copper plate, she printed several copies. She then hand-painted all individual prints 'to order'. The museum currently has three of these uniquely hand-painted prints.
Dimensions: 41" x 29" (print).


About Susan Paterson
Susan Paterson was born in 1958 in Halifax, Nova Scotia. She attended Mount Allison University receiving her Bachelor of Fine Arts in 1980. She has also attended Byam Shaw School of Art in London, England; NSCAD, Halifax; Academy of Realist Art, Toronto; School of the Museum of Fine Arts, Boston and Grand Central Atelier, New Hampshire. Her studies have been supported by an Elizabeth Greenshield's grant, a Nova Scotia Arts Council grant and an Academy of Realist Art scholarship.

Susan has exhibited extensively across Canada since the early eighties, presenting more than thirty solo shows and many more group shows including Capture 2014, Nova Scotia Realism juried by Tom Smart and Peter Dykuis which travelled throughout Nova Scotia and Terrior, a Nova Scotia Survey at the Art Gallery of Nova Scotia. Her work is in collections all over the world including the City of Dartmouth, Nova Scotia Art Bank, Art Gallery of Nova Scotia, Bell Canada, Husky Oil, Magna International, Oshawa Foods, Citibank, Olympia and York Developments and K.K. Sakai, Tokyo, Japan.
About John William Hill
John William Hill was a British born American artist who's work primarily focused on landscapes and zoological subjects. The artist John Ruskin and the American followers of the Pre-Raphaelite Brotherhood, which he himself was also associated, inspired Hill. Halifax from Dartmouth reflects his inspiration and association with this movement.
Note: Onscreen is a representation only. Colours may not appear accurate. Shipping fee includes mailing tube cost.
Print is on display in foyer of Evergreen House